Today we are launching a brand new Account Dashboard for users of WOW TRK. As usual the new features are entirely free for affiliates. When we first launched the new WOW TRK platform we had no plans to launch accounts for affiliates but as the platform has grown we've seen the huge amount of uses for affiliates. Back in March we launched the ability for users to save offers to their own offer list, so they can easily keep track of offers they plan to run across multiple networks. Something we believe our platform is the first to do for affiliate offer aggregation.
And today we are announcing another unique feature for accounts that we plan to expand on much further over the next 12 months. Affiliates can now get personalised affiliate offer recommendations in their Account Dashboard from more than 30 affiliate networks. Stop wasting hours every week trying to find new affiliate campaigns of interest to run across multiple networks and utilise WOW TRK's New Recommended Offers for free.
The New Account Dashboard
The new WOW TRK Account Dashboard lets you easily see much more information at a glance. Below is a screenshot of the new account dashboard that has launched today. If you don't already have an account you can register for free here.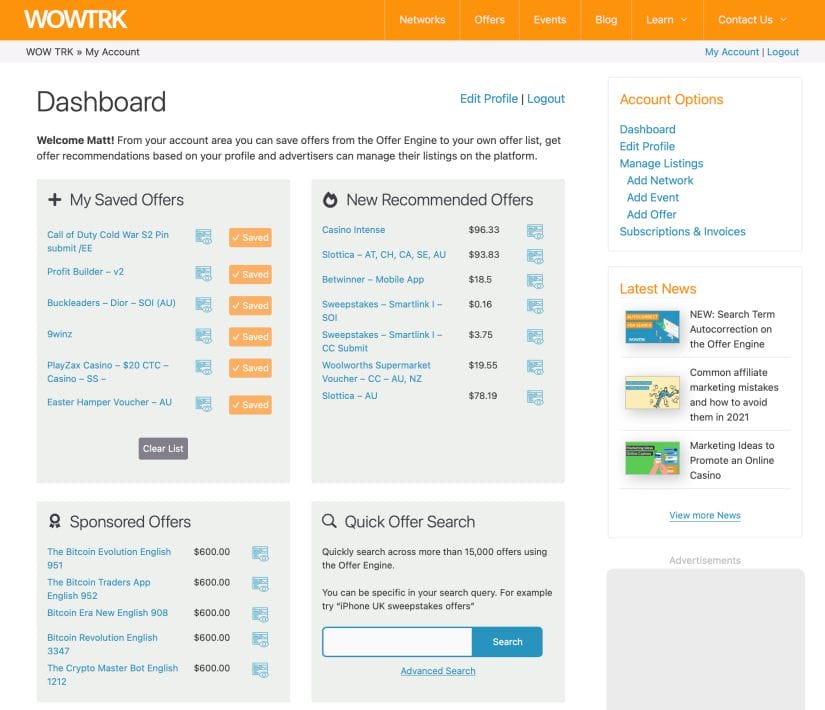 Let's quickly breakdown each section of the new account dashboard.
My Saved Offers
As before you can easily manage your saved offers, when browsing the Offer Engine (which now lists more than 20,000 offers across 30+ networks) you can quickly hit "Save Offer" and add it to your saved offers list. It's a great way to keep track of offers you plan to run. If an offer is removed from a network it will be automatically removed from your saved offers list.
New Recommended Offers
This is the most interesting section of the new dashboard. You can now get a list of recommended offers in your account. This shows a list of new offers on the Offer Engine that might be of interest to you. Keeping up with new offers across multiple networks can be extremely difficult and this is the first step we are taking to make this task easier for affiliates.
The offer recommendations are based on your Interests Profile. Login to your account today to fill in your Interests Profile and start getting offer recommendations.
Sponsored Offers
This is a way for networks and programs to showcase their best offers to you. Any offers that are sponsored on the Offer Engine will rotate on this list. You can click on these to find out more information about these offers.
Quick Offer Search
Being able to quickly search on the Offer Engine is key. Now you can quickly do this from your account dashboard. If you've saved an offer and want to quickly compare the rates of that offer you can do so all from one place.
In case you missed it, earlier this year we announced our integration with DuckDuckGo (simply type !wowtrk then your search query to instantly search WOW TRK from DuckDuckGo). Give it a try on Duck.com.
Listings & Insights
If you are an affiliate network or program operator you will also see 2 additional sections on the Account Dashboard. The option to manage any existing listings linked to your account and also a brand new option that is coming soon, "Insights". At first, Insights will give you the ability to see the most popular search queries on WOW TRK, so you can focus your time on bringing on offers that affiliates are looking for and optimise your existing listings. Over time Insights will expand to provide further information, if you are an advertiser please speak to your account manager to discuss this.
Setup your Interests Profile
To get started with your personalised offer recommendations, you should setup your Interests from the Edit Profile page in the account area. If you are already logged in, simply click here to go to Edit Profile.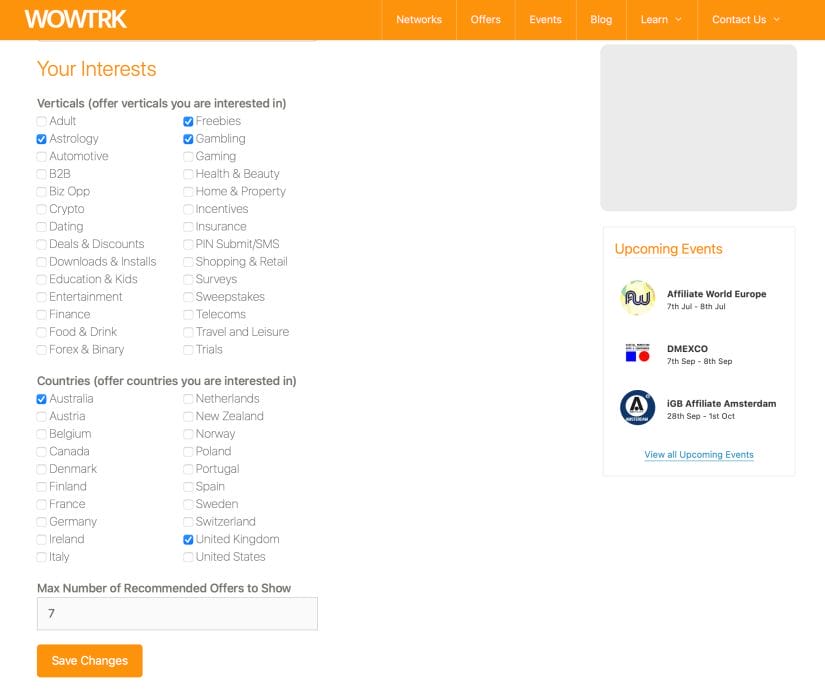 Simply select the types of offers you are interested in by selecting verticals you promote and the countries you work in. This will help the platform to recommend you relevant offers.
You can also set the maximum amount of new recommended offers you want to show on the Account Dashboard.
What's next?
Launching the new Account Dashboard was key to the future plans for WOW TRK. We have even more exciting new unique features launching for WOW TRK accounts over the next couple of years.
We will of course be expanding and improving the offer recommendations on WOW TRK over the next 12 months. In the short term we plan to show offer recommendations in more places on the platform not just on the Account Dashboard and not just for new offers.
Make sure to follow us on Facebook and LinkedIn to keep up to date with all the latest feature announcements.