Since we launched the WOW TRK Offer Engine back in November the amount of offers listed on it is now over 14,000. We only expect this to grow rapidly over the months ahead as we regularly integrate new affiliate networks.
Last month we announced huge updates to how search works on the Offer Engine to make offer discovery easier for all affiliates. We are still continuing to make changes behind the scenes to improve search further. For example, we recently made a small tweak to sometimes show offers higher up the results when they pay higher than other offers shown in the same results.
New Save Offers Feature on the Offer Engine
This week we are announcing a brand-new free feature on the Offer Engine.
On the Offer Engine you will now see a button on all Offer listing pages that says "Save Offer".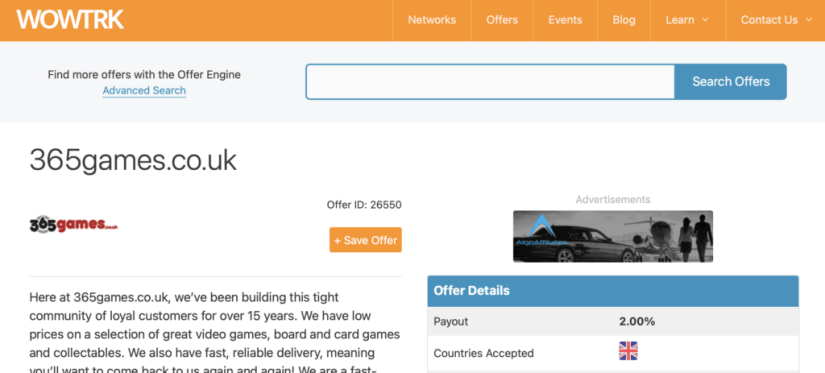 Simply click this button and the Offer will be saved to your account under "My Saved Offers". It's that simple to save an offer to your own personal offer list on WOW TRK.
This new feature makes it much easier to keep track of all the Offers you find across multiple networks and programs, so you can keep a list of affiliate offers you plan to run all in one place.
Offers will stay in your personal offer list until the offer is paused, deleted or excluded from the Offer Engine by the affiliate network or program.
To use this new feature you will need a free WOW TRK account. If you don't yet have an account you can create one by registering here.
Viewing Your Saved Offers
You can quickly view your list of saved offers from the "My Account" page. You will see a link to this on most pages in the grey bar below the site navigation.
As always with WOW TRK features this works well across different devices so if you are on your desktop or on the move viewing offers on your mobile device you can view your saved offers.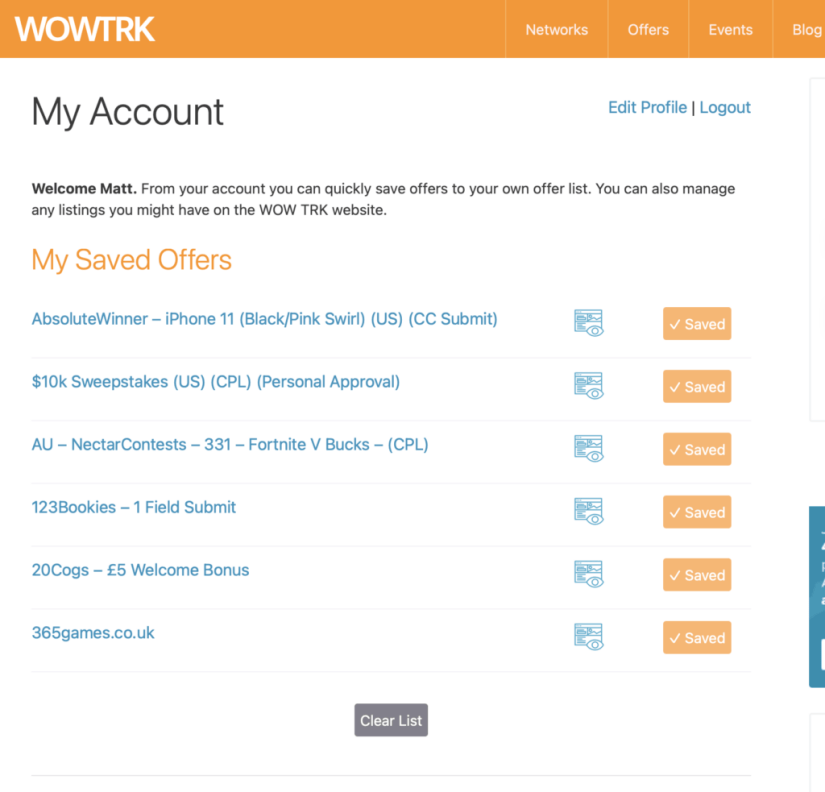 When viewing your offer list you can click the Offer name to see full information on the Offer. You can also click the faded out Saved button to quickly remove an Offer from your list.
If your list gets too big and you want to start again simply click the "Clear List" button to delete all Offers from your list.
Coming Up
We will be making further improvements to the new Saved Offers feature once we gain feedback from Affiliates.
We are planning to make your personal saved Offers list more prominent across the site, for example we may include this in the sidebar, when this is visible on pages.
We would love to hear from you if there is any key information you would like to see at a glance in the "My Saved Offers" list. Right now we are just showing the Offer Name and a link to the Preview URL.
Beta Testers Wanted
If you would like to beta test new features for the Offer Engine before they are released please reach out to our team to become part of our beta testers group.