With any sort of business on the Internet, and especially so in the context of affiliate marketing, it is absolutely imperative that you keep track of all your key website statistics. There are many different tools and solutions out there to choose from, but one of the best is also one of the most popular and it also happens to be free. Google Analytics easily integrates with the rest of your Google account, including Google AdSense, Google AdWords, and Gmail.
Google Analytics provides a robust set of metrics for your website, not only recording the basic number of visits and page views, but also information about your visitor demographics, their bounce rate, their navigation pattern, their referral source and more.
Setting up Google Analytics on your website is very easy.
1. Go to google.com/analytics in your web browser and log in with your Google credentials.
2. Once your account has been properly set up, click on the "Admin" link in the upper navigation bar at the top of the page.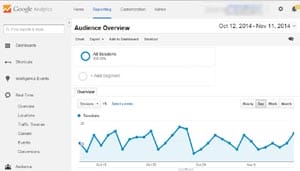 3. In the first column is your account name. In the second column are your properties. Click on the pull-down menu and choose "Create new property."
4. The resulting page will ask for you to enter the basic information about your site. Choose the first option to track a website (the second option is to track a mobile app).
5. Enter the website name and website URL. The website name is mostly for your own purposes, but the website URL needs to be exactly correct. There is a difference between www.example.com and example.com.
6. Select the Industry Category. Google says this will help them "work towards building tailored reports, customized communication, and better education material." However, the category that you choose does not affect tracking and data collection.
7. Choose your reporting time zone.
8. Click the "Get Tracking ID" button.
9. On the next page, you will see your Universal Analytics tracking code. This is the script that you will need to insert on every page of your website. If you are using WordPress, one of the easiest ways to do this is to copy and paste the code in the footer.php file before the </body> and </html> tags at the end.
It can take some time before first set of visitor data appears in your Google Analytics account. Once it does, however, you'll be armed with a lot more information to better optimize your site for conversions, user retention and monetization.