"Ad blindness" is the phenomenon where a visitor to a website effectively becomes "blind" to a certain advertisement, because the same ad continues to appear in the same location. This is likely some extension of an evolutionary characteristic in humans where objects that stay the same in an environment eventually become ignored on a subconscious level, because they don't appear to pose any threat or provide any apparent value.
In the context of running a website that is monetized by banner ads, it is absolutely imperative that website owners are cognisant of "ad blindness" and address it accordingly. One of the best ways to do this is to maintain a list of several different banner ads which can then appear at random in the same spot on the website. If your website is powered by WordPress, this is actually very easy to do, especially within the context of the WOW Trk network.
1. Install and activate the WOW Trk WordPress plugin.
You can either find and download this plugin from the official WordPress plugin directory or, more conveniently, perform a quick search using the "install new plugins" area in your WordPress admin panel. This will install the plugin directly rather than needing you to download the files, then upload them to your server.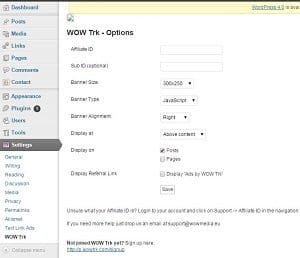 2. Go to the Settings page in WordPress.
After you've downloaded, installed and activated the WOW Trk WordPress plugin, you'll find a new section under the "Settings" tab in your WordPress admin panel. It is conveniently named WOW Trk. Click on that to open the settings page.
3. Enter your options and preferences.
A big part of the convenience of the WOW Trk plugin is that it requires very little configuration. It will automatically selects and rotates through the best performing banners, geotargeting them to your audience. What you'll need to enter on the options page is your WOW Trk affiliate ID and your sub ID (optionally) to connect the banners to your account.
Below that, you can select the banner size (300×250, 468×60 or 728×90), the banner type (JavaScript or iFrame), the banner alignment (center, left or right), the display position (above or below content), whether the banners should appear on posts or pages (or both), and whether you'd like to display the "Ads by WOW Trk" referral link.
And that's it. This plugin is a great way to combat ad blindness and to improve both click-thru and conversion rates!