Typing mistakes happen regularly, especially if you type fast. They are can be super annoying and slow down your workflow.
Leading search engines have a great solution to this, if you type something that looks incorrect they will show a short message saying "Did you mean?" or "Showing results for" instead of your original search query. Helping you quickly get to the results you need.
We posted back in March about how we made a huge amount of improvements to search on the Offer Engine and how we planned to release a similar autocorrect feature like leading search engines have.
We are happy to announce that today this feature is rolling out on the Offer Engine!
How Autocorrect Works on the Offer Engine
Right now we are only implementing Autocorrect when there would be no results found. Sometimes autocorrect found on other services and devices can be super frustrating when it's wrong. We don't want to implement something that could cause more frustration than it does to improve the service. So we decided to implement this only (at least for now) when no offers would have been found. This way it can only be useful and never hinder your search for the best affiliate offers.
When you type in a search term on the Offer Engine if your search would have returned 0 results you may see a message below the search box stating "Showing results for X" instead of your original query. If the platform thinks you may have misspelled your search query it will do its best to find what you meant.
You can see an example of this below.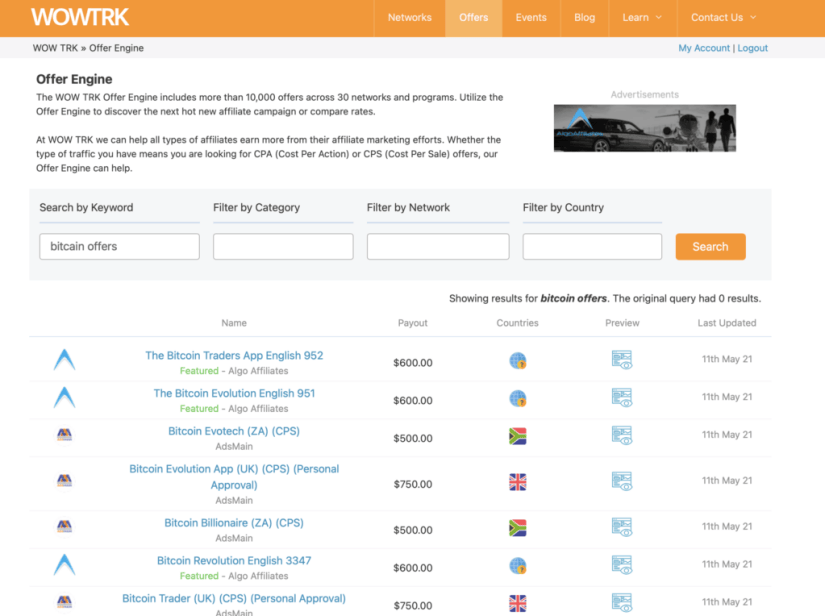 Previously if you typed in the exact same search query "bitcain offers" (notice we spelt bitcoin with an a) you would have had 0 results.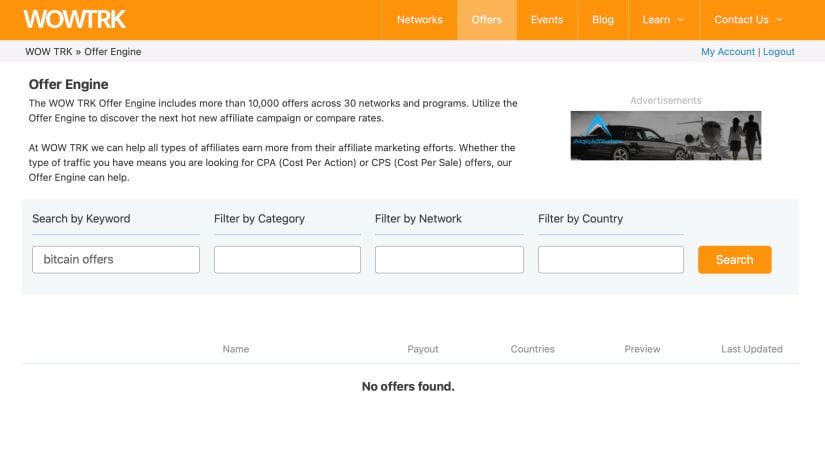 As you can see from above sometimes it's hard to notice typing or spelling mistakes in your search query. The new Autocorrect feature aims to solve a frustrating issue and help speed up your search for affiliate offers. We hope everyone finds this useful! 😀
If you encounter any issues with the new Autocorrect feature or have any suggestions for it please do let us know. We love hearing feedback from affiliates.
What else is happening at WOW TRK?
Last week we added several new filter options to the Network Directory to make network discovery easier! These new filter options now let you easily filter networks by Commission Types, Payment Methods, Payment Terms and Status (so you can finally show just networks that are still open!).
Also coming up later this month is a redesign of the account area along with new account features! We have some really exciting stuff planned that you won't have seen anywhere else. 🎉