Keyword research can be laborious, requiring you to research keywords and find keyword suggestions from one website while finding search volume from another, many of which cost to use. This clever tool was designed to simplify your search, save you time and money. This is the best tool we have found to do free keyword research, saving you from expensive monthly fees. The next best tool we have found was Ubersuggest which we covered in our SEO post for beginners.
What is the Keywords Everywhere Extension?
Keywords Everywhere is a browser extension that allows you to do simple keyword research. The extension can be easily installed for free on either Chrome or Firefox. It shows you monthly search volume, cost per click (CPC) and competition data of keywords on multiple websites (for example directly on Google searches).
The Benefits of Downloading Keywords Everywhere
It's easy to use and will give you the information you need to analyse different keyword phrases.
It is free to use so you have little to lose (but the time spent trying it out!).
Its data is available to be shown on multiple platforms such as Search Console, Keyword Planner, Analytics, Bing, Ubersuggest, Google Trends, YouTube, Majestic, and Moz.
It allows you to customise its features that simply enable or disable certain metrics, so you're not bombarded with unwanted data.
It allows you to download the list in your favourite format, whether that is PDF, Excel or CSB.
How to Download & Use Keywords Everywhere
Using Keywords Everywhere is fairly simple. Because the tool is added onto your browser capabilities, you don't have to go to each competitor's site, do research and then go to different third-party tools to analyse a keyword or phrase. You can see data right in a Google search, for example.
Follow these instructions from the Keywords Everywhere website to get setup:
1. Once you have installed the browser addon for Chrome or Firefox – Click the Keywords Everywhere icon that shows up at the top right of your browser. If you do not see this icon, the addon was not installed correctly. Try to uninstall it and then reinstall it.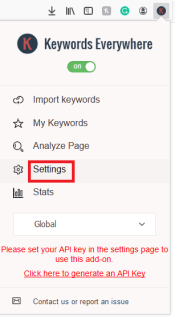 2. In the popup that opens up, click the link "Settings". This will open the settings page.
3. Enter your API Key in the text box at the top of the page. If you do not have an API key, get one from here. You must do this before you can use the extension.
4. Go to Google.com and search for any common keyword. The metrics will show up under the search box. See the screenshot below. If you are unsure what these metrics mean we have included a glossary at the bottom of this post.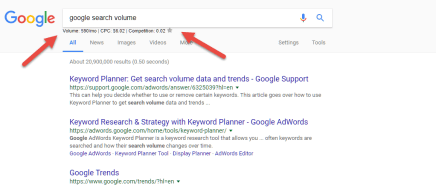 Also on the right hand side of the results when searching on Google, Keywords Everywhere will not only show you metrics on your specific keyword (like shown in the above screenshot) but on the right hand side also show you Related Keywords and Keywords other people are searching for.
5. For other websites like Google Analytics, the keywords are shown inside the report table. The browser add-on adds new columns in the table for the keyword search volume and CPC right inside your existing reports for your website. Saving your time pulling data from multiple places together.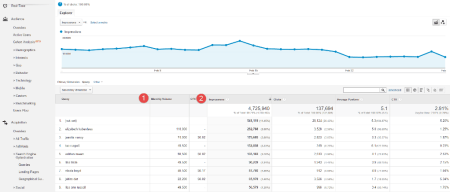 Once you have mastered the basics of using Keywords Everywhere, you may want to look at their excellent list of additional features to help you even further with your SEO requirements.
Keywords Everywhere's Additional Features
Country specific search volume data on the keyword tool of your choice.
'My Keywords' option that saves your keywords and allows you to export keywords in bulk.
'Analyse Page' option that finds all keywords on any webpage and shows you the volume metrics.
'Adds all keywords' option that allows you to add all keywords found on the page.
Metric Terms – Glossary
Volume – Monthly Search Volume is an average of the total searches that people have performed for this keyword per month over the last year.
CPC – Cost Per Click is the amount that advertisers are paying for a single click for this keyword in Google adwords.
Competition – Adwords Competition is a gauge of the number of advertisers that are running ads on Google Adwords for this specific keyword.
We hope this blog post has been a useful insight in to what the Keywords Everywhere extension is, how it works and the benefits of it for free keyword research. Got any questions? Leave us a comment below and we will be happy to answer! 🙂
Source: Keywordseverywhere.com