The tables have turned.
In 2018, Google—undoubtedly the biggest search engine in the digital age—has rolled out updates to usher in "mobile-first" indexing as opposed to prioritizing desktop websites.
Mobile-first indexing is Google's next step to even better search experiences for mobile users. Put simply, it means their search engine crawlers or "Googlebots" will utilize content from a website's mobile version first during the indexing process.
As far as SEO is concerned, mobile-first indexing has a number of implications on how on-page SEO is performed. Rather than focusing on the optimization of your desktop website, you need to build your SEO campaign around the mobile version instead.
Below are five strategies you need to know to help your website thrive in a mobile-first world.
1. Increase Content Shareability
One of the reasons why mobile devices have permeated modern lives is the existence of social media apps.
As humans, we have the innate desire to connect. There's just something fulfilling with being in touch with people whom we care about, share similarities or differences, and discuss topics with.
Social media cultures are also forged with the content users share across the platform — encouraging discussions and bring much-needed traffic to brands who develop and publish them.
You can do the same for your brand by improving the shareability of your website content. This starts with content development practices that maximize reader engagement, such as:
– Writing short yet punchy headlines
– Focusing on the right content promotion channels
– Providing tons of actionable information
Of course, you also need to integrate social sharing tools with features that cater to mobile users. Share by Sumo, for example, integrates a floating social sharing interface and built-in mobile responsiveness to make the experience intuitive.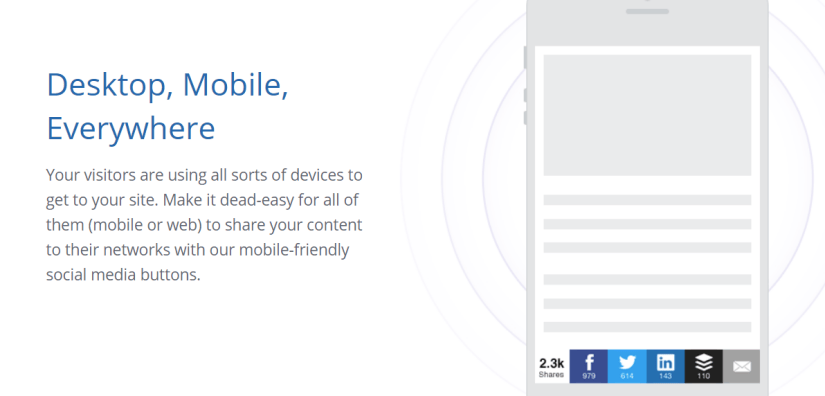 Social media users also prefer sharing images rather than text content, which is why you shouldn't forget to add share button overlays on your images. This is useful if you're trying to build a social presence in networks like Pinterest and Instagram.
2. Develop Mobile-Optimized Content
It doesn't matter if you're optimizing your desktop or mobile website — quality content will still be the building blocks of your SEO campaign.
Mobile users, however, can be extra finicky when it comes to the presentation of content.
Given the smaller display sizes of mobile devices, you need to implement the smarter use of white space and visual content. For example, instead of using a bulleted list, you can present organized information or statistics in an infographic that incorporates data visualizations, images, and readable font.
Infographics, along with other images fit for social media use, can be easily created with tools like Canva and PicMonkey.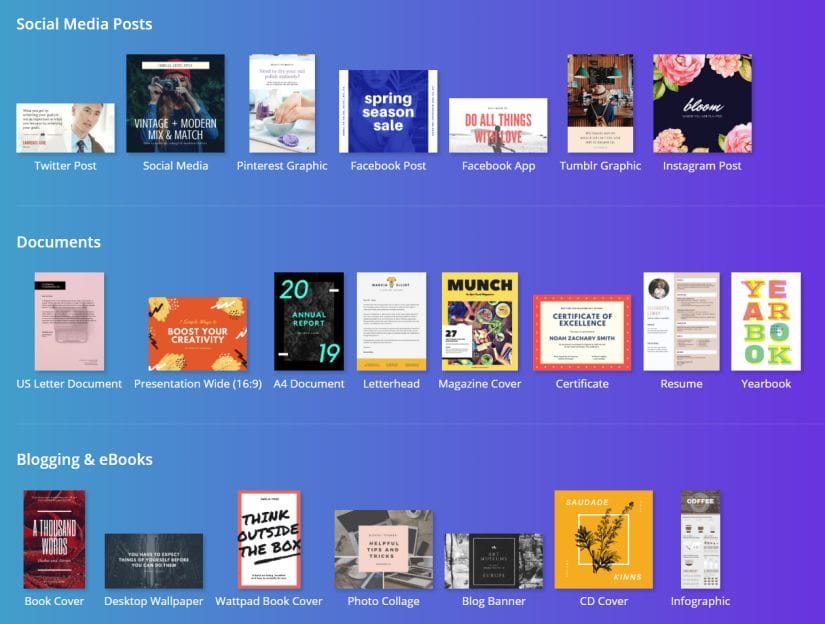 If you outsource your content, make it a point to hire freelancers who can communicate naturally using the English language. This makes them more capable of constructing shorter and more natural-sounding sentences, which improves the readability of longer posts for mobile users.
3. Invest in an App
Regardless of niche, any brand will greatly benefit from publishing an official mobile app. Not only will you maximize the visibility of your marketing messages, it's also a surefire way to build customer loyalty and trust.
Creating a mobile app for your brand is a lot easier than you think, especially with modern app builders with drag-and-drop functionality. If you only need simple functionalities like push notifications, analytics, and some interactivity, app builders like BuildFire, Thunkable, and Appy Pie should suffice.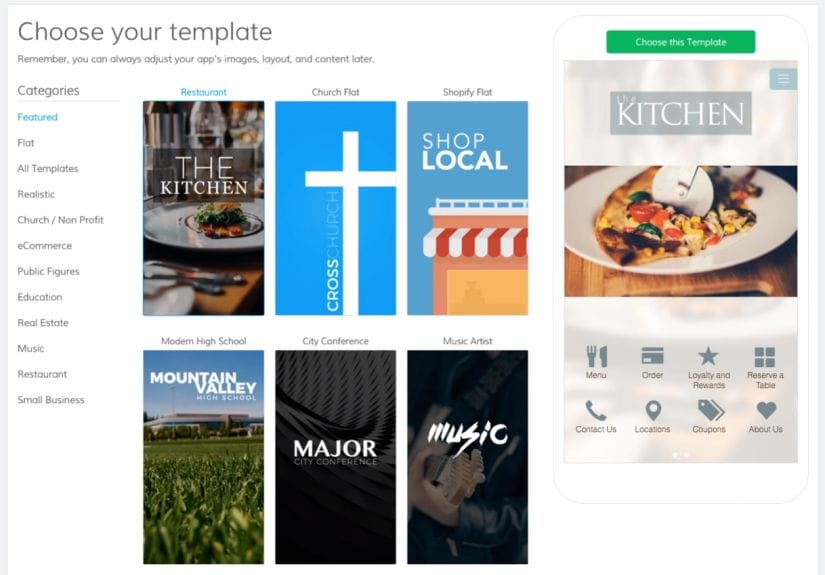 4. Keep Building Quality Links
Just like with your desktop website, high-quality link building is still indispensable to the rankings of your mobile website.
Developing quality content, building a social presence, publishing an app — all these efforts will enable you to earn more quality links naturally. There are also several link building strategies you can double down on to accelerate the growth of your backlink profile:
Interviewing Influencers
A reliable way to earn quality backlinks from authoritative websites is to interview social media influencers or bloggers in your niche and publish the results. This will also help you get organic, click-through traffic once they share your content with their follower base.
Target Long-Tail Keywords
To make sure your link building strategy yields profitable results, you need to target long-tail keywords that aren't too competitive and can bring in traffic with purchase intent.
Keyword research tools like LongTailPro will enable you to generate these long-tail keyword suggestions from broader, less profitable search terms. Not only that, the tool can also show you how competitive the keywords are, making it easier for you to decide whether or not it's feasible for you to target the keywords.
Build Skyscraper Content
The Skyscraper Technique is a link building method where you find popular content, create something even better, and reach out to influencers who linked to the original source. Link Explorer from Moz is an all-around tool that can help you with this — from researching your competitors' content to locating authoritative sites where they earn their links.
Write Roundups
Mentioning other influencers in a roundup post is a great way to get their attention. If you can present their brand in a positive light, they should be more open to the idea of sharing and linking to your post.
5. Improve Mobile Speed
Finally, a responsive website is barely enough to offer mobile users a compelling experience and improve your rankings.
You also need to work on key SEO factors that search engines use to gauge site rankings.
Google, for example, has cited loading speed as one of the core ranking factors that website owners should pay attention to. It is, after all, one of the things that can make or break the user experience on a mobile platform.
Performance optimization tools like PageSpeed Insights can analyze the performance of your website on mobile devices and provide actionable suggestions to reduce loading time.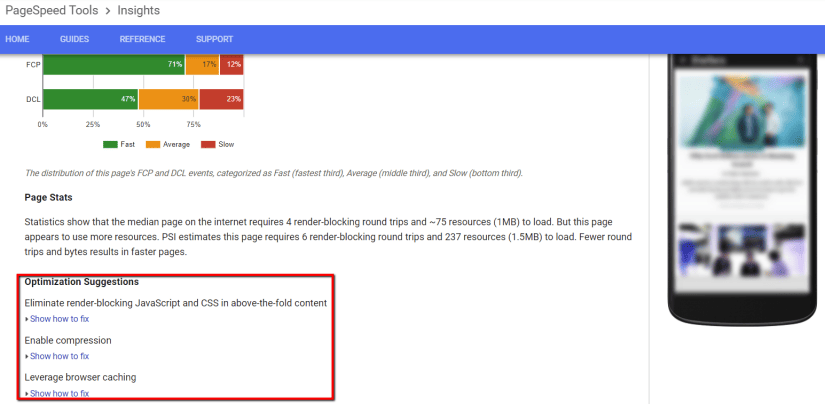 If you plan to apply the optimization suggestions yourself, click "Show how to fix" to view additional details along with the necessary learning resources. The typical suggestions include leveraging browser caching, compressing images, and minifying your website's codes.
Below are other mobile site speed optimization tips you ought to consider:
– Rather than using custom fonts, look for alternative web fonts on free services like Google Fonts.
– To optimize your website's bandwidth utilization, use a video plugin that renders a thumbnail instead of loading the actual video.
– Build Accelerated Mobile Pages or AMP to allow your mobile website to load almost instantaneously.
Conclusion
In a hyper-connected world, SEO for mobile devices is no longer an option.
You can't be resistant to change if you want to call yourself a marketer. Mobile web browsing is clearly the future, and it's your duty to be in touch with the content consumption behaviors of your audience.
The strategies above will definitely help you carve more profitable marketing campaigns in a mobile-first world. If you have any questions, suggestions, or opinions, feel free to share them in the comments section below. Cheers!