You might have noticed that on our blog, we are currently carrying out a series of 'Affiliate Marketing Explained' posts. In January, we covered Pingtrees, and it is worth giving it a read if you are interested to find out more about what Pingtrees are and how they work. In this article however, we are going to be talking about a term that you might hear mentioned quite a lot by marketers – EPC (the definition being: Earnings Per Click).
What is the definition of EPC?
Earnings Per Click is quite a misleading term when you first hear its definition, as you do not actually earn money per click as the term suggests. What it actually means is average earnings per click, and this is where many people get confused. A networks EPC rates displayed is usually calculated based on all the affiliate traffic that has been sent to the merchant/campaign within a specified period of time. It is worked out as an average and ends up telling companies the amount of revenue that might be earned per click through your affiliate link. People use this metric to help compare the earning potential of different merchants.
How Is It Useful?
Like we said above, you can use this to help evaluate the earning potential of different merchants. You might find however that the EPC on an affiliate marketing platform is higher or lower than you actually recieve. This is because everyones traffic performs differently, it is rare that you will get the exact EPC that a network shows. So, if for example you know your traffic converts lower than say a Cashback website and most of the traffic delivered so far to a merchant has been via Cashback then your EPC is most likely going to be much lower than the network EPC shown.

Whilst EPC sounds like it might not be that useful, it is still a really valuable metric when it comes to deciding what merchants to promote. As it isn't just about your traffic but it's also how well the merchants website converts. If the EPC on an offer is extremely low (or high) this can be a really useful insight into the campaign and a big factor on helping you decide if t run the merchant's campaign or not. As such, it becomes a valuable number that you need to take into account when you are deciding which offer you are going to look at. However there are still many other things you should consider when choosing the right merchant to promote, EPC is just one of many metrics to look at before deciding to run an affiliate campaign. We will cover what the definition is of the correct merchant campaign for your traffic in a later Affiliate Marketing Explained post.
EPC on WOW TRK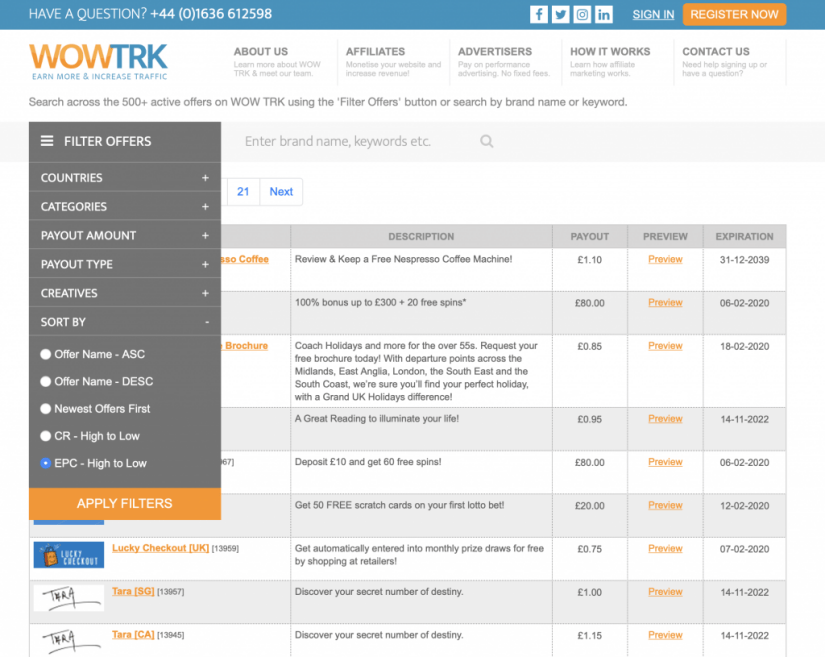 WOW TRK's affiliate network used to offer affiliates the ability to be able to order offers based on the highest EPC from the Offer Directory. Many affiliate networks let you login to see the top performing offers and their specific network EPC's. Finding the right campaign to promote can be extremely difficult (WOW TRK's Offer Engine can make this easier) but being able to order them by EPC (and Conversion Rate) amongst many other factors helps you find the perfect offer for your traffic.
We hope that you now understand the definition of EPC in terms of affiliate marketing, and how it can give you a useful insight into the performance of a merchant's campaign.