The Fiverr affiliate campaign was designed to help people drive traffic to Fiverr's website. In return for this, you will be paid a certain amount for helping send this traffic their way. But, before you can do this, you need to understand what this actually is, and if there are any restrictions. We are going to discuss this in the article below, starting with what the Fiverr Affiliate Campaign is.
What is the Fiverr Affiliate Campaign?
Fiverr is the world's biggest marketplace for services, and this all starts at $5. It doesn't matter whether you are looking for creative, professional, or digital services, Fiverr is going to be the place to find them. It now has the reputation of a one-stop for providing customers with digital services such as content writing, SEO, WordPress developers and so on.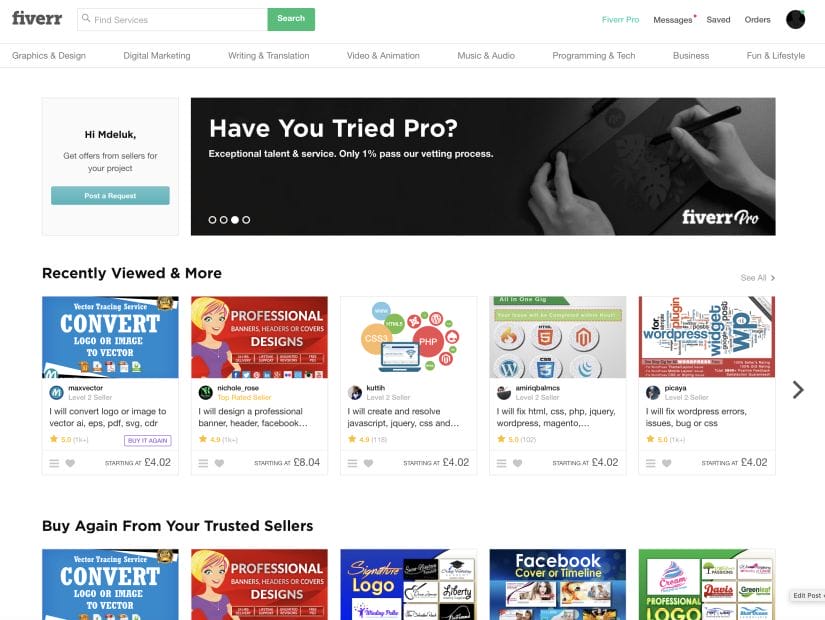 The program on offer requires approval whether you are an existing or a new affiliate, and has a payout on WOW TRK currently of £11.40. This offer does not expire until December of 2022, so you have plenty of time to read around and understand this before you commit to promoting it. For example, for you to make money from this program, each person directed to the Fiverr website from you must be a new and unique visitor.
There are certain restrictions on this affiliate program, such as no cash back where the commission is shared with the customer. This goes for any other similar promotional methods as well. Brand bidding is also not allowed under this campaign, and all email marketing, or SMS marketing must be sent to your account manager before it is allowed to be distributed. Ensure that you fully read the conditions that come attached so that you don't get caught out later on as these may have changed since we wrote this post detailing the Fiverr affiliate campaign.
So, to put it simply, you refer customers to Fiverrs webpage, and for every referred user that goes on to make a purchase, you will make some money.
How To Make Money as a Fiverr Affiliate
As we said above, you are going to get paid by Fiverr for the traffic that you send their way. So, when a new customer makes a purchase, you are going to get paid for this. There are some ways that you can maximize the amount of money that you will be receiving from Fiverr.
The first way that you can do this is by sharing your unique link on social media, if you have a large following or pages with a lot of followers you can recommend Fiverr's services to them in a post. If you have used Fiverr yourself you could even include photos of some of the work they have done if they have done graphic design work for you for example.
As well as this, you can recommend to the people on your website, if you have one, that they seek out professional help like the services offered by Fiverr. Some of the freelancers listed on Fiverr are extremely skilled in what they do (encourage users to look at reviews of freelancers though first, the review system is extremely important on a site like Fiverr), and as such will be able to provide a great level of service. You should be aiming to get them over to Fiverr's site and convince them that working with a professional through Fiverr is going to be more beneficial to them than having an amateur complete the work or them spending time trying to do the work themselves when they could be focusing on more important tasks.
You could even just write a review of Fiverr on your website. If people trust you and your recommendations, they are likely to follow them. So, if you write a review that says how great they are (ensure your review is honest and actually use Fiverr before you write a review), the people who visit your site are going to be more inclined to follow your advice and get the professional help that Fiverr offers. For each person that reads your review and goes to the Fiverr website and makes a purchase, you are going to earn commission from the affiliate programme.
We hope that you now have some ideas on how you can make money using the Fiverr affiliate campaign. As we said before, make sure to read the full terms and conditions of the affiliate programme before you start promoting it, because you don't want to be surprised later down the line. The campaign is a great way to make some money through an affiliate campaign and you don't want to ruin what could potentially be a long term revenue stream for yourself by not following the terms of the campaign.