Content marketing has become one of the most common strategies among digital marketers for promoting brands, engaging site visitors, and convincing people to convert.
Unfortunately, because everyone understands the power of creating killer content, the internet has become saturated across all industries, leaving people wondering which sites to visit.
Any content you produce for your website has to go above and beyond what has already been published on the internet.
You must create unique content that ranks well, interests your target audience, and gets people to take action.
In fact, if your goal is to grow your business, expand your following, and beat out even the toughest of competition, what you need to do is engage in advanced content marketing.
In a recent survey, Smart Insights found that 45% of businesses don't have a digital strategy. Don't be one of those businesses! You need a sound strategy to succeed.
To learn some strategies that seasoned marketers are already using to push beyond the competition, keep reading.
We have some of the most effective advanced content marketing methods around that are sure to establish you as one of the most authoritative site owners in your industry.
But first, let's take a look at what advanced content marketing is.
What is Advanced Content Marketing?
Advanced content marketing is content marketing that goes beyond publishing blog content about a topic and posting it on social media networks to broaden its reach.
Here are some of the qualities that separate advanced content marketing from the basic approach:
Forward-Thinking. Using techniques and strategies that not many are using (or even know about).
Personalization. Creating content and promoting it to a particular group to meet their exact needs rather than a general audience.
Optimization. Go beyond basic SEO optimization. Instead of just optimizing content for better search rankings, you'll focus on optimizing your content so it's more appealing to those performing search queries.
Data-Reliant. Analyzing hard data regularly and making improvements based on that information.
Customization. Thinking outside of the box and not doing what everyone else is doing, even if it's working. Also, creating content that's exclusive to your brand and promoting it as different from everyone else.
Advanced content marketing is not necessarily more difficult than traditional content marketing. But it will require you to take a fresh approach if you want to stand out from the crowd.
Now let's look at some of the advanced content marketing strategies the experts are already using.
1. Publish on More than Just Your Website
If you consistently publish on your website and post to your social media accounts, and still want more engagement with your content, try using a content sharing community.
Content sharing communities allow you to publish your website's blog posts on their platform without being penalized.
In other words, you can publish duplicate content on a content sharing community's platform without harming your search rankings.
For instance, Medium automatically adds canonical links to protect original content published elsewhere.
According to Medium, this means that their platform can "only boost – not cannibalize – your SEO."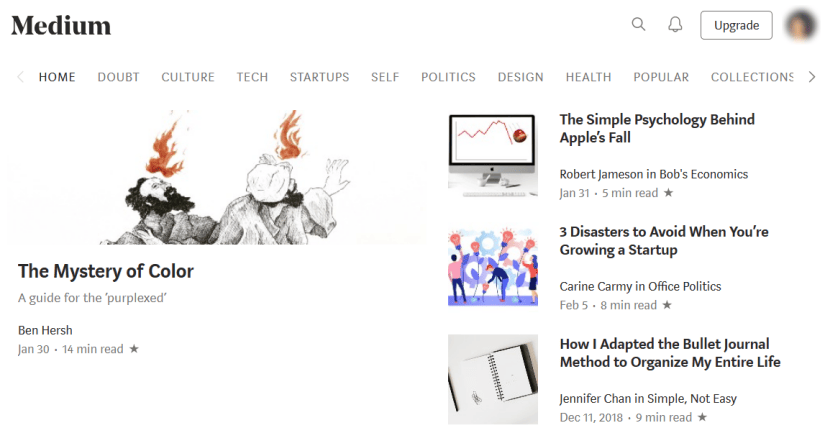 Another benefit of publishing your content on these community platforms is that there are going to be like-minded people submitting and sharing similar content.
Because of this, chances are high your content will be discovered and possibly shared by people in your industry.
Other popular content-sharing communities include HubPages, Blog Engage, Triberr, and Flipboard.
2. Go Beyond Popular Content
If you don't already know by now, you can track your website's most popular content in Google Analytics, which happens to be one of the best tech tools for small businesses.
Just go to Behavior > Site Content > All Pages in your Google Analytics account.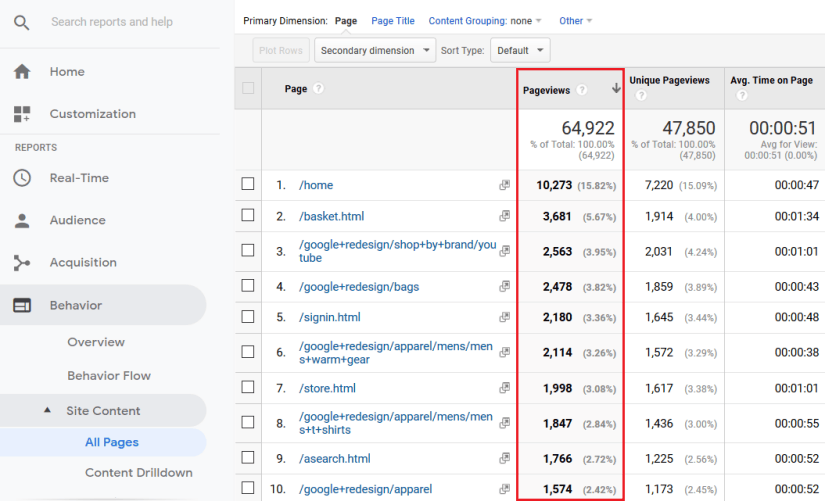 The more pageviews each webpage has, the more popular it is.
And with this information, you can figure out which type of content your site visitors like more (e.g., infographics, long-form blogs, video content, etc.).
Of course, this strategy is widely known, and most content marketers already do it to help drive traffic, boost conversions, and increase sales.
But as a seasoned marketer that knows better, you can go beyond popular content and glean more information.
On this same page in your Google Analytics account, click the small dropdown labeled Secondary Dimension to find out where people are coming from to read your site's content.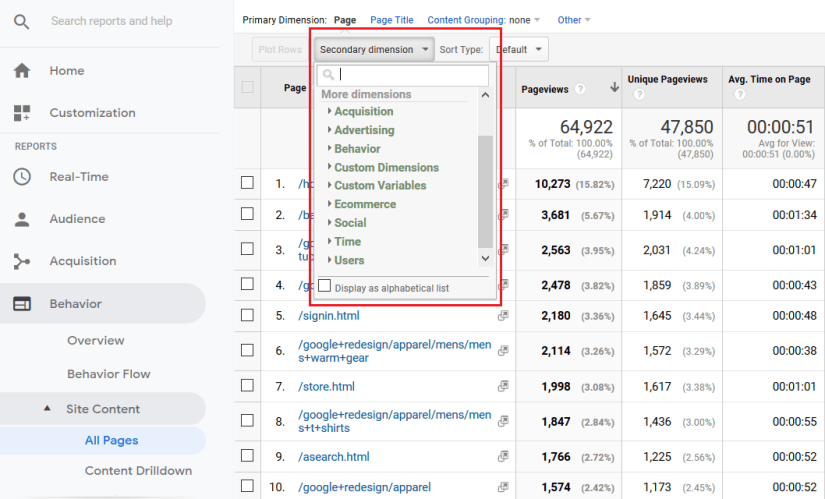 Here you'll see options such as acquisition, advertising, eCommerce, social, and more.
If you want to see which traffic type brings people to your popular content, click Acquisition > Traffic Type.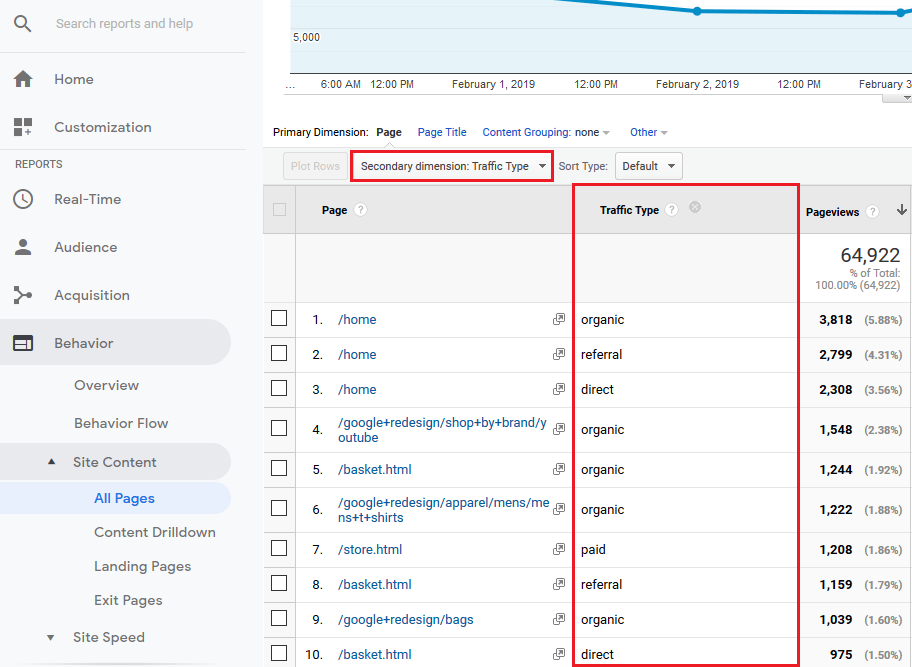 The results will show you where people were right before they clicked on your website to visit.
For instance, they might have been performing a Google search, may have seen one of your ads, or maybe they saw your content in a social media post and decided to visit your site.
Here are some other data you can get from this "hidden" secondary dimension feature:
Which paid advertisements are generating the most traffic
Landing pages people were on before they began reading your content
Search terms used on your site to find content
Social media networks people were on before coming to your site
Dates and times people visit your website
Which search engine keywords led people to your content
Demographics of people viewing your content
Using this little known Google Analytics feature will give you a more detailed look at who your site visitors are, where they come from, and what content they like most on your website.
3. Repurpose Your Content
Content marketers that regularly update old content by turning them into different formats are 74% more likely to see positive results in terms of traffic and conversions.
Repurposing your most popular content has the following benefits:
Give old (but popular) content new life
Reach people that prefer to consume content in formats other than blog posts
Update old information, so readers always have the latest information
Promote the content again and drive new people to your site that have never seen it before
Save yourself the time of having to come up with original content all the time
One of the easiest ways to repurpose an old blog post is to turn it into an infographic. People love short, easy to skim, and highly visual content.
If you want to create an infographic and have no clue where to start, start by using the free online tool Canva.
With plenty of pre-designed templates to choose from, and the option to change things like layouts, fonts, color schemes, and more, you can create a one-of-a-kind infographic in no time.
You can also use this tool to create a business logo, social media visuals, newsletters, and even ads that are sure to stand out from the crowd.
4. Vary Your Snippets
It's easy to use the same titles, metadata, and snippets for your content when you're sharing it on multiple channels.
After all, if you come up with a killer blog title, why not use it everywhere?
Not to mention, using the same information across all platforms is a great time-saver.
That said, if you want to go beyond what every other content marketer is doing, you're going to need to put in some extra time. And one way of doing that is to vary your content's snippets.
Here are some variations you might consider adding to your social media posts, tweets, email subject lines, and even content titles that link back to your website:
Add numbers to the titles, make them longer or shorter than the original, or include different emotional tones
Add relevant questions to your snippet to encourage people to click through
Use statistics in messages to spark interest
Add a call to action and customize it (e.g., change the color, size, copy, and style)
Varying your content's snippets gives you a chance to see what style people like the most.
Do they enjoy statistics? Maybe they prefer short snippets and an image.
Maybe people would rather click a call to action button than a link in your email campaigns.
Or maybe people like to be presented with a question and are enticed to click through to find an answer, as seen in this tweet by Neil Patel.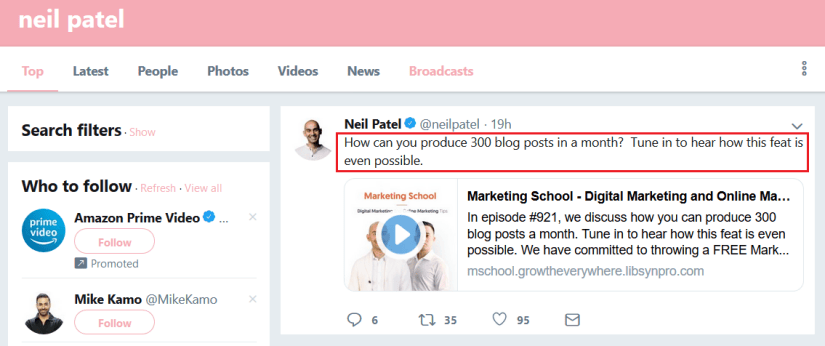 Knowing what gets people to click and visit your website will help you make informed marketing decisions that will drive positive results.
5. Use Multiple Domain Names
Most website owners are okay having one domain name for their business, blog, or online shop.
However, some larger companies may benefit from having more than one domain name to boost their marketing efforts.
There are several ways to use another domain name to help you promote your content and your business:
Buy multiple domain names with relevant keyword variations and have them all point to your main website
Have domain names that differ from your main site and use them as highly targeted landing pages
Create entirely new websites using similar domain names, market similar but different content, and use each site to "compete" against one another in search results
Having multiple domain names makes it easier for people to find you, no matter which channel they're on.
That said, having multiple domain names also has the potential to add a lot of work to your already long to-do list.
But as a way to get ahead of the competition, this might be just the trick you need.
Final Thoughts
Whether you're looking to grow your business, are having trouble standing out from the competition, or just want to add some fresh new strategies into your content marketing plan, using advanced techniques can help.
So, if you're looking to step up your content marketing game and see positive results like never before, try a few of the above-mentioned advanced content marketing tips and tricks.
Just don't forget to track the data so you can measure your success and see just how far you've come thanks to these little-known strategies.