Being a digital marketer means you will always be part of a learning process. Nothing is ever static in the digital world. To stay ahead you need to stay educated and aware of new ways to harness tools, platforms and opportunities. Luckily, there is plenty of great content out there to help us stay ahead of the curve. Here are three marketing books you will definitely want to add to your collection.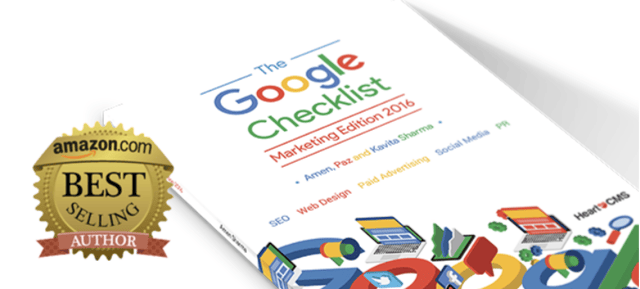 Google Checklist
We all know by now that Google rules the way when it comes to search. They are digital marketing giants, so it makes sense that the 'Google Checklist Marketing Edition 2016' is one must-read for any marketer. Written by Amen Sharma, managing director of HeartCMS this book covers the following areas:
Social Media
PR
Web Design
SEO
Paid Advertising
Mobile Apps
A good all-rounder for any marketer looking to enhance their skills, or just simply stay up-to-date with the latest techniques in each of these digital marketing channels.
Content Inc.
Content drives marketing; written, video or visual, marketing can't happen without it. That being said, learning how to create engaging content is key. This book looks at 'how entrepreneurs use content to build massive audiences and create radically successful businesses'. Joe Pulizzi is the founder of the Content Marketing Institute and author of Content Inc. He knows his stuff when it comes to captivating a targeted audience through this medium and using it as a tool to drive action.
The Complete Guide to Affiliate Marketing on the Web
Of course, we couldn't leave out our recommendation for a great affiliate marketing book. 'The Complete Guide to Affiliate Marketing on the Web' is ideal for newbies who want to learn more about how affiliate marketing works. It's also a worthy read for the more established affiliate who wants to refine their approach. This book covers affiliate marketing best practises and is based on hundreds of interviews with the most successful affiliate marketers out there. The best way to learn is from the pros, so be sure to pick up a copy of this great book by Bruce C Brown.
If you don't feel like reading a whole book, there is so much bite-size information out there. You can learn through video, or create your own reading list based on new content from marketing related blogs. Take our blog, for example, we are always sharing information about the latest changes in digital marketing and the best ways to stay on top. Never stop reading and never stop learning.