The free WOW TRK browser extension lets you quickly check your affiliate stats for any affiliate network or program that uses the TUNE tracking platform.
You can find a list of affiliate networks and programs that use the TUNE tracking platform here.
Configuring the Extension
When you first install the extension you need to configure it for the specific affiliate network or program you want to show statistics for. An explanation of each settings option for the extension is below.
Network ID
For the Network ID you can find this by logging into an affiliate network or program that uses the TUNE platform and then clicking on "APIs" under the "Tools" menu (if you can't see APIs you need to ask the network to enable this option for your account).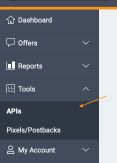 Currency
Here you can pick the currency you wish for stats to display in. You don't need to match this to the network or program. You can pick the currency you prefer and it will convert the commission using TUNE's exchange rates.
Currency Symbol
Here you can enter your preferred currency symbol. For example, you could write a $ sign or you would write AU$ to remind you that its showing in Australian dollars (if that's the Currency you picked above).
API Key
You can find your API Key in the same place as Network ID. Simply clicking on "APIs" under the "Tools" menu. You may need to request your API Key if you can't see it.

Notifications (Chrome Only)
Here you can tick to enable commission notifications for the extension. You will receive a browser notification if your commission on the network for today increases (it won't look for changes in commission for previous days).
---
Once you have completed the above information you can click "Save and close". Then clicking on the WOW TRK extension icon will show you a statistics overview for your affiliate account.