TestersKeepers – Good Bubble Organic Baby Products [UK] Affiliate Programme
Offer ID: 14464

Good Bubble is a range of natural bath and hair products for children. All products are allergen free, dermatologically and ophthalmologist tested for a tear-free bath time. Testers Keepers is giving two mystery shoppers the opportunity to spend £50 at Good Bubble in return for honest feedback of their experience.
Payable Action: Registration
Restrictions: No Incentives. No pornography, racialist and illegal activities such as illegal download sites, or any sites to do with pyramid selling. All emails must be sent to your account manager for approval before sending. Ages 25+. Any SMS traffic must be pre-approved.
Email Traffic: The suppression list password must be requested from your account manager.
Tracking Protocol
Server Side
Expiration Date
30 September 2019
Example Creatives
Offer Terms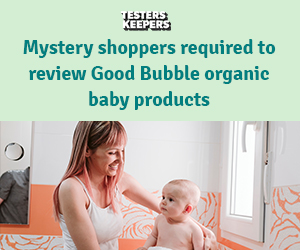 Leads below the age of 28 will not be paid for.
Suppression list password: AHJ6=8WmMU