Testers Keepers – Lancôme Skincare [UK] Affiliate Programme
Offer ID: 12243

Is your skin feeling tight, dull and dry? Does it need some tender loving care? Testers Keepers has a chance for one lucky person to review a luxurious Lancôme skincare set of your choice, up to the value of £200.
Payable Action: Registration
Restrictions: No Incentives. No pornography, racialist and illegal activities such as illegal download sites, or any sites to do with pyramid selling. All emails must be sent to your account manager for approval before sending. Ages 25+. Any SMS traffic must be pre-approved.
Expiration Date
30 April 2018
Example Creatives
Offer Terms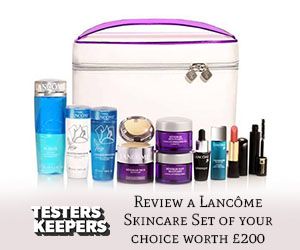 Leads below the age of 28 will not be paid for.