Testers Keepers – iPhone X [UK] Affiliate Programme
Offer ID: 12247
TestersKeepers is giving one lucky person the chance to test the hottest gadget around, the long awaited iPhone X.
Payable Action: Registration
Restrictions: No Incentives. No pornography, racialist and illegal activities such as illegal download sites, or any sites to do with pyramid selling. All emails must be sent to your account manager for approval before sending. Ages 25+. Any SMS traffic must be pre-approved.
Expiration Date
30 April 2018
Example Creatives
Offer Terms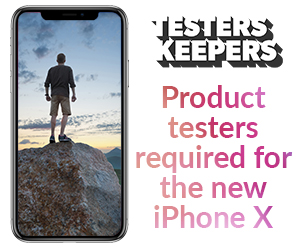 Leads below the age of 28 will not be paid for.