Testers Keepers – Google Home Mini [UK] Affiliate Programme
Offer ID: 12245

Most people would welcome a personal assistant who would make sure no appointments or engagements are missed, birthdays forgotten and above all, someone who would help with every day tasks. Testers Keepers is looking for a tester to review the new Google Home mini, which is a hands-free smart speaker that offers help in numerous of ways to make your life easier.
Payable Action: Registration
Restrictions: No Incentives. No pornography, racialist and illegal activities such as illegal download sites, or any sites to do with pyramid selling. All emails must be sent to your account manager for approval before sending. Ages 28+. Any SMS traffic must be pre-approved.
Expiration Date
31 March 2018
Example Creatives
Offer Terms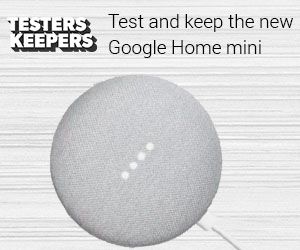 Leads below the age of 28 will not be paid for.