GetTestKeep – Restaurant Gift Card [UK] Affiliate Programme
Offer ID: 14661

Get Test Keep are looking for people to become a secret diner. If you're chosen, you'll be sent a £100 giftcard to enjoy at a variety of restaurants . Simply join our program and complete all the forms.
Payable Action: Form Submit
Restrictions: No email until Opt in URLs have been provided and signed off. Only display traffic accepted, all other methods must be pre-approved. No promotion on violent sites or pages, no illegal traffic, no incent, no adult, no typo squatting. 18+ only. All affiliates are capped at 100 conversions each per day across all OfferX offers, if you need a larger cap please contact your account manager, once you reach this you wont be paid for conversions over this cap.
Tracking Protocol
Server Side
Expiration Date
1 October 2020
Example Creatives
Offer Terms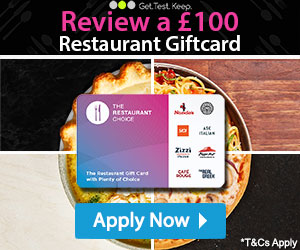 Targeting 18+
Invalid or Fake leads will not be paid for
Use only approved from fields and subject lines.
Use only the creatives provided by the advertiser. Any custom creative/banner should be approved in advance. Please contact with your Account Manager.
No misuse of 3rd party brands
Make sure that your advertising materials do only show brands displayed on the offer. It is absolutely forbidden to use any logos from following companies: Coles, Westfield, WoolWorths, ALDI, Tesco, H&M, Iceland, Carrefour, Ikea, E.Leclerc, Auchan, Picard, Thomas Cook