7Search.com is a leading pay per click search engine and is a popular source of traffic for affiliates (if you are familar with 7Search but are looking for other ways to buy traffic, check out our previous post: Buying Traffic as An Affiliate).
This guide will help you setup your first offer from WOW Trk on 7Search. With 7Search you pay per click of your ad, therefore you need the cost of clicks to be lower than the CPA/CPL of the offer from WOW Trk. If for example you start a campaign on 7Search which converts 1 in every 10 clicks, 10 clicks costs you an average of £3 but the offer pays £5 per lead, you are making a profit of £2 on average every 10 clicks (if you always get 1 lead per clicks).
1) Create an Advertiser Account
First you must create an advertiser account with 7Search, you can do this here. You must then fund your advertiser account, if you fund at least $50 usually the link in this post you will get a bonus $25 credit.
2) Pick an Offer from WOW Trk
You must then from your affiliate account on WOW Trk, pick an offer which you think will convert well on 7Search (once setup and optimised).

3) Create a Campaign on 7Search
Now that you have picked the offer from WOW Trk you wish to promote, you need to login to your 7Search advertiser account and at the top click 'Campaigns' and then 'Create Campaign'
Once you have done this you will see a short form to fill in, see below: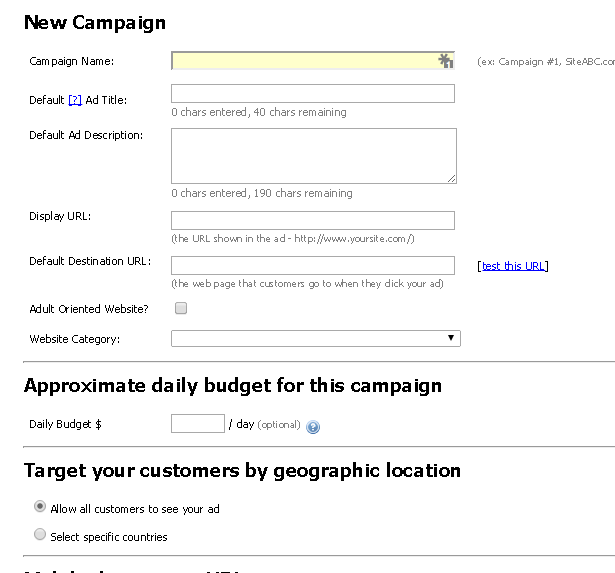 You want to enter the following in each field –
Campaign Name: Simply a name of the campaign on 7Search for your reference, you could simply put the offer name from WOW Trk.
Default Ad Title: This is the ad title so it wants to be about the offer, interesting enough for a potential visitor to click on your ad.
Default Ad Description: This is the description of the ad that a user will see, this wants to go into more detail about the offer.
Display URL: This is the preview link from WOW Trk. On the offer listing page on WOW Trk simply click on 'Preview Landing Page' and then copy the URL of this page.
Default Destination URL: This is your tracking link. From the offer page on WOW Trk copy and paste the link below where it says 'Your Tracking Link'
Website Category: Simply select a category that is relevant to the offer you have picked from WOW Trk.
Daily Budget: This is the maximum you want to spend on your campaign per day.
Target Your Customers by location: Its very important that you setup the geo targeting on your campaign on 7Search. If the offer on WOW Trk only allows UK traffic, you want to make sure you are only allowing traffic from the UK on 7Search, otherwise you will be wasting money.
Once you have completed the form simply click Create Campaign.
4) Add the Keywords
Now that you have setup the initial part of the campaign you need to add keywords for your campaign, so that your campaign gets relevant traffic.
The 7Search 'Keyword Suggestion tool' makes it fairly easy to add relevant keywords to your campaign. Simply type in a word that is relevant to your campaign and click Get Suggestions.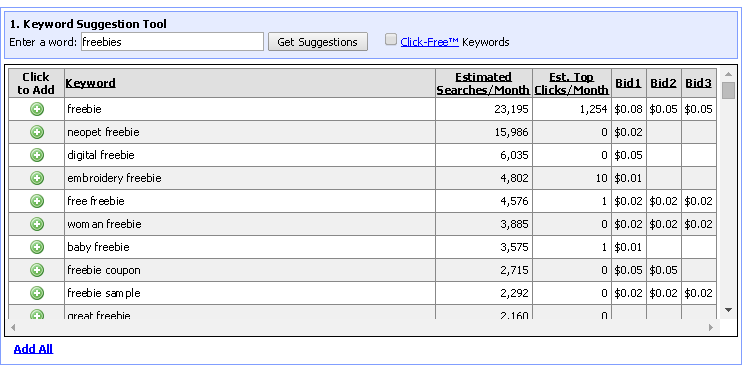 7Search will then display a list of keywords which might be relevant to your campaign and you can simply click the plus sign next to any keywords you wish to add to your campaign.
Once you have done this simply setup your 'Starting Bid' (this is how much you want to pay per click on your ad) and then click on Next >>.
After this check over your keywords and click Submit Keywords. Your campaign will then be setup and live on 7Search!