We here at WOW Trk pride ourselves in delivering a truly top-notch international affiliate network with high payouts, terrific dedicated account managers, and some of the best real-time reporting in the business. And while we certainly recognize and provide a range of affiliate offers that can be targeted to many different countries around the world, our selection of offers for traffic from the UK is truly impressive.
As you make your way through our inventory of offers, you'll find some of the best affiliate programs in the UK today. Of course, how you choose to define the "best" is entirely up to you, as there are many metrics that you might consider. For instance, you may look at some of the remarkably generous payouts available on our network.
In particular, the forex and binary category currently provides some of the best UK affiliate programs in regards to the CPA that you can earn. Advertisers in this space currently offer CPAs of nearly £200. This is an increasingly popular and lucrative as more online investors are looking for the opportunity to make more money online in the fastest and easiest manner possible. Binary options sites are rapidly growing and you can capitalize in this space.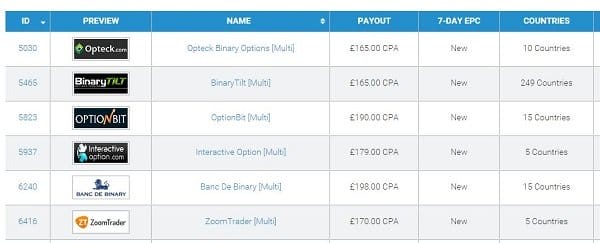 For example, Opteck provides its members with the opportunity to earn as much as 100% profit in just 60 seconds, trading in forex, stocks, commodities and more. The payable action is a minimum deposit of $250 from the referred user, generating an affiliate commission of £165. Another great example is the current offer from OptionBit, which also has a payable action of a minimum $250 deposit, but this offer has a big payout of £190.00. The OptionBit offer is already pre-populated with many ad banners in a range of sizes, as well as an HTML email for your mailing list.
Affiliates who are looking for the best affiliate programs in the UK in terms of earnings per click (EPC), one of the current top performers is the program from MyInsurance. With a payout of £21.00 when the referral requests a quote, it has a current EPC of £1.50, making a well-targeted and planned search engine marketing campaign very viable. Another great option is the offer from Ladbrokes Sports, the UK's leading online sports betting website. When a referral deposits just £10, you earn a £26.00 CPA! The EPC of £2.68 is quite great.
If you want to target the market in the United Kingdom, WOW Trk has some of the best UK-based affiliate programs available today. Ask your account manager how you can maximize your potential in this area.