Here at WOW Trk, we're always looking to provide you with the best possible experience.
So to make your experience better a few days ago we made the move to UKFast, one of the UK's leading hosting providers. Our dedicated server now has more than twice the specs and is managed by the very experienced UKFast team. Who offer us 24/7/365 UK-based support and a 100% network uptime guarantee.
We knew it was time to make a change when our average uptime for the front end site (www.wowtrk.com) last month reached just below 98%! Due to hardware issues with our server. UKFast guarantee a 2 hour turn around on Hardware replacements.
It is important to note that our DNS is managed externally and our tracking platform is hosted by HasOffers, since our DNS was moved away from our server (a few years ago) and managed externally we have had 100% uptime for our tracking domain t.wowtrk.com.
We have moved the front end of WOW Trk (www.wowtrk.com) and also many of our unique tools for Affiliates have also moved to our UKFast server, as more and more Affiliates start to use these its important that they are fast and reliable.
UKFast are also a 100% carbon neutral company and we are always looking at ways to be more carbon neutral.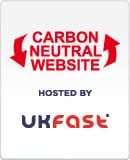 If you are interested in learning about UKFast you can head over to their site here:
https://www.ukfast.co.uk/.