We are really excited to announce the release of our free Mac application! At WOW Trk we try to offer the most reliable and quality service, however we realise at the end of the day you want to know how much you've earned and when you are going to get paid. With our new Mac App we make it even easier to keep track of your account stats, payments and much more.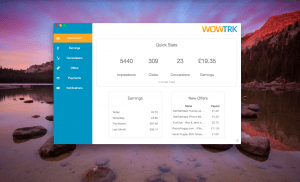 From the WOW Trk App Dashboard you can see a quick overview of your earnings over the past 7 days and a breakdown of earnings Today, Yesterday, This Month and Last Month. Plus you can also see the latest offers to go live.
But wait there are even more reasons to download the App!
– Alerts: Get alerts when your commission increases.
– Offers: Take a look at the latest offers to go live on WOW Trk.
– Conversions: See your latest conversions, so you can see which offers are working for you.
– Payments: Take a look at your recent payments see if you have any outstanding and see when your payments have been sent.
– Notifications: Want to know if you have been approved for an offer you applied for? Want to keep up to date with offer changes? Check on your account notifications in the app.
So ready to download the free App on your Mac? Head to the Mac App Store and search for the WOW Trk App, or just click here to go straight to the App in the Mac App Store.