As I am sure you are aware a while ago when our affiliate interface was updated to Version 2, the interface was responsive for mobile devices – making it easy to manage your affiliate account on the go.
Most parts of the interface were responsive however some pages were not this included the New Offers, Expiring Offers, Top Offers pages and a few others.
Great news! These are now all responsive. This means that the entire interface for Affiliates is now responsive.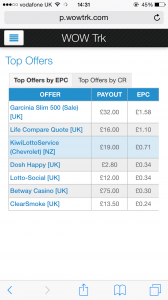 We hope Affiliates find this update useful. In other news we will shortly be launching our brand new website design. We can't wait to show you the fresh new look!