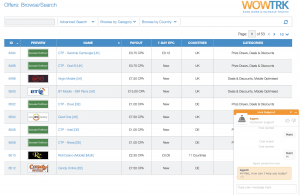 Great news! From today we now offer Live Chat support from within the Affiliate interface.
For over a year now we have provided Live Chat on the front end of the site for new clients and also in the Advertiser interface. We are happy to announce you can now speak instantly to our team from within the Affiliate interface.
Got a question about an offer? Payment? Requesting approval on an offer? Ask away on our Live Chat and get a reply within minutes! :)
Our Live Chat support is available from 9am to 5pm GMT, Monday to Friday.
If our Live Chat support is not available you can also quickly leave us a message and we will get back to you via email (our average response time at the time of writing is less than 24 hours and we are constantly working to get this even lower!).
We hope all our existing and new affiliates find this useful and if you have any comments about this please let us know.