If you are not familiar with our free 'Share Offers' tool for affiliates, the tool lets you quickly and easily share your affiliate link for a range of offers on social media. Offers listed on the Share Offers tool have a short 'social creative' attached to them which is the text that will be automatically used with your social post.
The Share Offers tool makes it extremely easy to start promoting WOW Trk offers on your social pages, start earning money today with Social Media and the WOW Trk Share Offers Tool.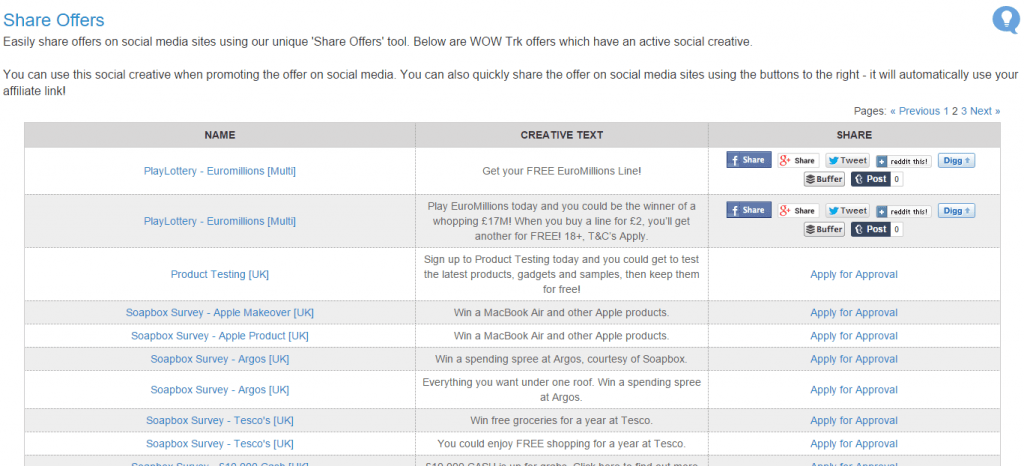 Most important – what has changed with the Share Offers Tool?
StumbleUpon – The StumbleUpon share button was broken, due to the lack of use we decided to remove this from the tool.
Google Plus – We have replaced StumbleUpon with a much bigger and popular social network, Google Plus.
Tumblr – And on top of this we have added Tumblr to the support social networks you can share on!
Buffer – For users of the online Buffer App we have added a Buffer button so you can add a WOW Trk offer quickly and easily to your Buffer queue (Buffer lets you quickly schedule social posts for different days & times).
We have also made some changes to how the tool works, due to the amount of Social Creatives we now have available for offers the Creatives are split into pages (so the list is not massive!) and also you can see easily which offers you are approved for and which offers you are not, so you can quickly apply to the offer if you wish to run it.
How do I start using the Share Offers Tool?
If you have yet to use the Share Offers tool, simply login to your account here and then go to the Tools menu and click 'Share Offers'