Over the past week we have made some big changes to the Offer Directory search and filter functionality. The Offer Directory is a quick way to see all the active offers on WOW TRK without signing up or logging in to your account if you are an existing Affiliate.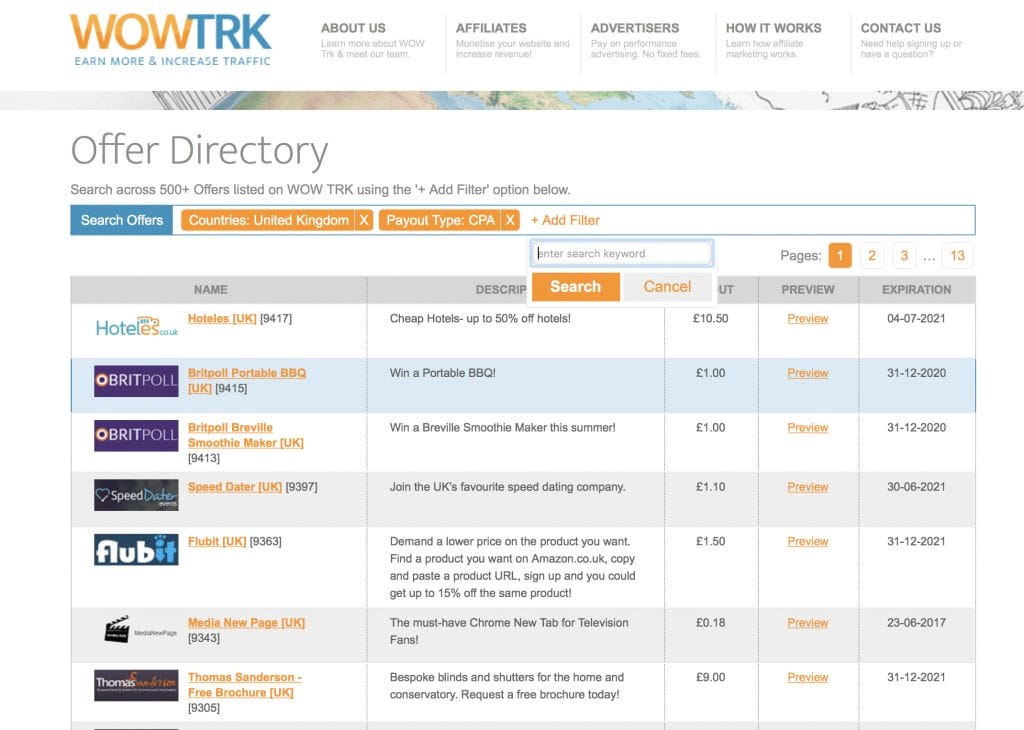 With the new blue search bar (which you can see in the screenshot above), you can easily create multiple filters for your search query and unlike before you can select multiple options for example say you want to view offers in both Australia and the United Kingdom you can now do this.
New Payout Type & Creative Type Filters
There is now a new filter called 'Payout Type' so you can sort offers by CPA (this includes both CPA and offers sometimes referred to as CPL), CPS (offers paying a % rate), Hybrid (offers with multiple payout types), CPC and CPM. Also recently we added a filter for 'Creative Type' so you can find offers based on what creatives they have.
New Sort By Filter
With the new Sort By filter you can order offers by highest EPC, Conversion Rate, Offer Name and also newest to oldest.
The new Offer Directory search and filters is a huge improvement and we hope this helps Affiliates find offers they are looking for even easier! The new Offer Directory filters make the search powerful than the search within the Affiliate interface. Finally you will also notice the search is now MUCH faster than it previously was. :)