Fraud is a well known problem in the affiliate industry and networks like ourselves have to take great measures to prevent and stop fraud.
We have a few ways we keep our network safe and one of those is WOW DETECT.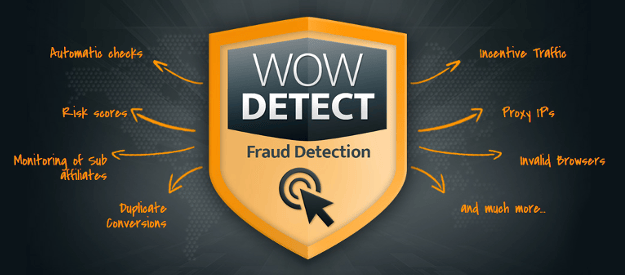 WOW DETECT is our home built fraud detection system that we use internally to monitor conversions and identify fraudulent activity.
Recently our management team sat down and discussed how WOW DETECT has performed since we first built the tool back in 2015. Whilst many enhancements have been made to the tool since it was first built, we haven't really sat down and looked at the platform as a whole.
Over the past week we have made big changes to some of the original fraud formulas, based on how WOW DETECT has performed over the past 3-12 months.
We really feel we have made a pretty great tool into a fantastic tool now, the new way we have organised fraud rules internally will help us to add in additional rules in the future as well. It is important we continually review and expand the technology, easily, as fraudulent activity becomes more advanced.
If you would like to join our network to promote your campaigns, sign-up here. Please speak to your account manager if you want to find out more information about how you are automatically protected by WOW DETECT.