The very notion of social media got started as a means for private individuals to connect and communicate with other individuals. It wasn't very long, however, before businesses and organizations began to recognize the potential power that these social networks could hold for brand building and marketing purposes. And from the viewpoint of making money on the Internet, social media affiliate marketing has nothing but incredible upside.
If you've already been earning commissions through affiliate marketing, generating targeted traffic through search engine marketing, article marketing, email marketing, or any number of other possible channels, then you should should really look into how you can further increase your review through social media affiliate marketing too. With literally millions of people checking their Facebook profiles and Twitter feeds every day, you have access to a lot more earning potential.
One fantastic tool available to you right here on the WOW Trk international affiliate network is something we simply called "Share Offers." In effect, you can promote compatible affiliate offers with just a couple quick clicks of the mouse.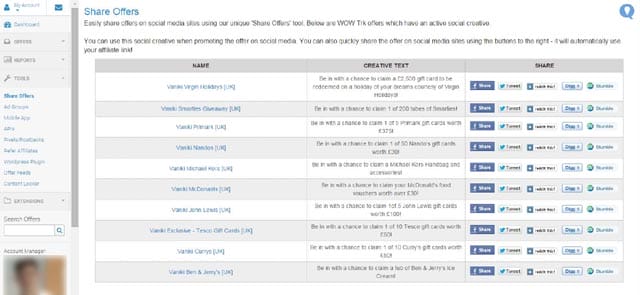 After logging in to your WOW Trk account, you will be presented with the affiliate dashboard interface as normal. Along the left navigation sidebar, look under the "Tools" section for "Share Offers." It should be listed as the first tool in this list. It's also under the "Tools" section that you'll find APIs, the handy WordPress plugin, and other useful utilities.
Once you've opened up the "Share Offers" page, you'll be shown a list of WOW Trk offers that currently have an active social creative. This social creative is ready to go. All you have to do is browse through the list until you find the offer and creative text that you would like to use. And then, click on the corresponding social media sharing button in the right column; it will automatically use your affiliate link to share the offer on Facebook, Twitter, Reddit, Digg or StumbleUpon. It's that easy.
But what if you want to promote an affiliate offer that isn't a part of this Share Offers tools? There are several different ways that you can do this. One function that is already built into the WOW Trk affiliate dashboard is the ability to generate a short URL. When you are on the offer page that you'd like to promote, click on the "Generate TinyURL" radio box next to your tracking link. This will create the shorter URL using the t.wowtrk.com domain.
If you would prefer to avoid using the WOW Trk branding as part of your marketing and promotion efforts, you can do that too. By utilizing third-party URL shorterners like bit.ly or the ow.ly shortener built into HootSuite, you can save those characters in Twitter for ease of sharing, just like you would with regular link sharing.
Social media affiliate marketing can be incredibly lucrative and with the great mix of international offers available on WOW Trk, you'll surely find the ones that will work best with your fans and followers.